11am – 1pm Children's Dance Classes
1pm – 4pm Performances and Panel
Join Philadelphia Ballet at AAMP next month for an all-day program including ballet and African dance classes for children, performances by PBII dancers and Philadelphia high school students, and our Black Choreographic Voices panel discussion.
The panel of choreographers will include Tommie-Waheed Evans, Da'Von Doane, Philadelphia Ballet corps de ballet dancer Fernanda Oliveira, and Pennsylvania Ballet alumna Heidi Cruz-Austin. The panel will be moderated by Norma Porter, Founding Publisher and Editor of Black Dance Magazine.
Dance and art enthusiasts of all ages and backgrounds are invited to be a part of this experience!
There are no advance sales, all tickets for this event can be purchased at the museum. Tickets will be discounted at $10 for all ages. AAMP Members are FREE.
---
Meet the Panelists
Norma Porter | Moderator
Norma Porter is a dance artist, journalist, arts administrator, and educator. She is the Founder of the Black Dance Resource Center, Founding Publisher and Editor of Black Dance Magazine, Managing Director of Headlong Dance Theater and Dance Recruiter at Temple University. As a dance artist, Norma trained at the Duke Ellington School of the Arts, Maryland Youth Ballet and American University. Norma teaches dance workshops, and performs with numerous artists including Bessie-nominated artist Lela Aisha Jones|Flyground, Enya-Kalia Creations and Dr. yaTande Whitney Hunter.
As a writer and scholar, Norma is currently developing two areas of focus: 1) critical analysis of the quality and frequency of media coverage of Black dance and 2) intergenerational working relationships between Black women in dance.  Normas' recent conference presentations and workshops include From THE FEET MAGAZINE TO BLACK DANCE MAGAZINE AND BEYOND at the January 2020 IABD Conference in Philadelphia, PA and
Agbadza! Go, Take!, a movement workshop/presentation (co-facilitated with colleagues) at the Collegium for African Diaspora Dance at Duke University in February 2020. She is the recipient of the 2019 Dance/USA conference travel award distributed by The National Center for Choreography -Akron and the Knight Foundation, where she was also a speaker on a panel entitled "Evolutions in Dance Writing: Documenting the 21st Century," in Cleveland, OH. Norma has moderated a panel discussion on Black Dance in Magazines at the International Association of Blacks in Dance (IABD) Conference in Dayton, OH in January 2019, and presented on Black women challenging racial, cultural and aesthetic norms in dance at the African American Museum of Philadelphia 's Amplify!: Black Women in the Movement Symposium in 2017. Norma holds undergraduate and graduate degrees in Journalism from American University. She resides in Philadelphia, PA.
---
Tommie Waheed-Evans | Panelist
2021 Guggenheim Fellow Tommie-Waheed Evans is a queer black dance maker, born and raised in Los Angeles, California, amidst racial divide, gang warfare, and earthquakes. His work explores blackness, spirituality, queerness and liberation. He began his formal training with Karen McDonald before receiving a fellowship at the Ailey School, and a Master of Fine Arts in Choreography from Jacksonville University. He has toured and performed nationally and internationally as a company member of Lula Washington Dance Theater, Complexions Contemporary Ballet and Philadanco.
Since 2004, he has created more than 50 original dance works that range widely in scope, length, tone and subject matter. waheedworks, his Philadelphia based dance company, is the primary vehicle for his creative research. The company's mission is to create a radically collaborative body of work that speaks to the human condition. His work brings together urban street dance styles and contemporary dance vocabulary through bold and raw movements propelled by gospel music and polyrhythmic sounds. He has also been commissioned to create works for BalletX, Dallas Black Dance Theatre, PHILADANCO, Dayton Contemporary Dance Compnay, Verb Ballets, Ballet Memphis, The University of the Arts, Boston Conservatory at Berklee, Lula Washington Dance Theatre, Louisville Ballet, among others. He has received accolades and honors including Resident Fellow at the Center for Ballet and the Arts at New York University, Princess Grace Honoraria Award in Choreography, New Music Project Grant, Howard Gilman Foundation Fellowship, Joffrey Ballet Winning Works, and recently a Dance Research Fellowship at the New York Public Library for the Performing Arts. Tommie is currently the Artist-in-Residence at PHILADANCO and on faculty at the University of the Arts.
---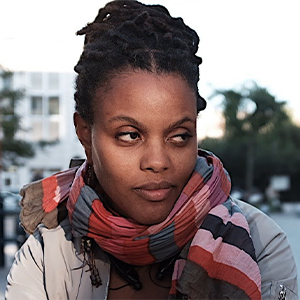 Heidi Cruz-Austin | Panelist
PanelistHeidi Cruz-Austin is a choreographer and professor of dance. Currently, Heidi is an Assistant Professor at Muhlenberg, where she serves as the Director of Recruitment for dance and the Co-Director of the Muhlenberg Community Dance Center. Early on she studied at the School of American Ballet and received an apprenticeship in 1994 with The Pennsylvania Ballet. After one year, she was invited to join the company as a member of the Corps de Ballet. In her years in the company she danced numerous featured roles for various choreographers, including Val Caniparoli, Ben Stevenson, Alvin Ailey, Christopher d'Amboise, and Matthew Neenan, and many soloist and principal roles in George Balanchine ballets.
Heidi has also danced with the Philadelphia-based company Ballet X and has performed as a guest artist throughout the United States and Europe. In 2019, Heidi received her MFA in Dance from the University of the Arts.Heidi is a Co-Director of a Trenton-based Contemporary Ballet company called DanceSpora, the resident dance company of the Passage Theater Company in Trenton, NJ. In addition to local performances, DanceSpora has been invited to perform at many prestigious festivals and events including; Jacob's Pillow Festival in Massachusetts, NYC10 Festival, Koresh "Come Together" Festival in Philadelphia, The Outlet Dance Festival at the Grounds For Sculpture, and the Independence Seaport Museum's Tides of Freedom: African Presence on the Delaware River exhibit opening, among others.
---
Da'Von Doane | Panelist
Da' Von Doanebegan his training at the Salisbury Studio of Dance, where he trained with Betty Webster, Tatiana Akinfieva-Smith and Elena Manakhova. At age 15, he began training at Atlantic Contemporary Ballet Theatre. In 2008, Da' Von joined the Dance Theatre of Harlem (DTH) ensemble. In 2009, Da' Von performed with Ballet Noir at East River Park as part of SummerStage and Jacob's Pillow, Becket, Massachusetts. In the fall of 2009, he began dancing as part of DTH and began touring with the company as part of its Dance for America tour.
As a guest artist, Da' Von has performed with the Classical Contemporary Ballet Theatre and with choreographer Ja' Malik in 2009'sE-Moves Emerging Choreographers Showcase. In the summer of 2010, Da' Von performed once again with Ballet Noir in the 200th Anniversary Chopin Celebration and the 2010 World Dance Gala in Kielce, Poland. Da' Von joined the newly reborn DTH in 2012. Da' Von was featured as one of Dance Magazine's Top 25 to Watch in 2014 and in the dance web seriesFor the Love of Dancewith Sarita Lou. Da' Von can be seen in Estelle's new video for the single "Conqueror" from her new albumTrue Romance, directed by Paul Jung. With DTH, Da' Von can be seen in various roles fromBlack Swan Pas de Deux, staged by Anne Marie Holmes, "Act III Pas de Deux" fromRaymonda,Dancing on the Front Porch of Heavenby Ulysses Dove and Balanchine'sAgonandTchaikovsky Pas de Deux. He was also part of Nacho Duato'sComing Togetherand works by other choreographers such as Robert Garland, Tanya Wideman and Thaddeus Davis, Helen Pickett, Donald Byrd, Bill Wilson, Arthur Mitchell, Darrel Moultrie, Francesca Harper, and John Alleyne. Da' Von performed this year as part of the Vail International Dance Festival's International Evenings of Dance, as well as theNOW: Premieresprogram alongside dancers from New York City Ballet, American Ballet Theatre and other companies. As an independent artist, he has performed with numerous companies and worked with choreographers from around the globe. Da' Von Doane has also created a number of original dance works curated and presented by Bryant Park, Thelma Hill Performing Arts Center, DTH, Periapsis Music and Dance, the CUNY Graduate Center, Composers Now Festival, and Symphony Space.
---
Fernanda Oliveira | Panelist
PanelistFernanda Oliveira trained at the Escola Estadual de Danca Maria Olenewa in her hometown of Rio de Janeiro and at The Washington School of Ballet in Washington, DC. Fernanda started her dance career with the Washington Ballet as a Studio Company member before joining Colorado Ballet in 2014. She had the honor of performing works by George Balanchine, Antony Tudor, Twyla Tharp, Val Caniparoli, Septime Webre, Clark Tippet, Michael Pink, Trey McIntyre, among others, on stages such as the Kennedy Center, Lincoln Center and the Academy of Music in Philadelphia.
After dancing the lead in Septime Webre's Sympathique, Fernanda received honorable mention in the DC Metro Theater Arts' review as, "a commanding presence, she lets the entire audience know she was born to perform."
Expanding her passion for dance in other ways, Oliveira is also a freelance choreographer and has created ballets for Colorado Ballet (Saudade in 2017 and All Strings Attached in 2018) and Avant Chamber Ballet (Homebound, 2019 and Jeux 2022), as well as for the main stage performance of the 2019 Evergreen Music Festival. Fernanda joined Philadelphia Ballet, formerly Pennsylvania Ballet, for our 2020/2021 Season.